Lazar Nikolic and Njegos Sikiras are ready for a great season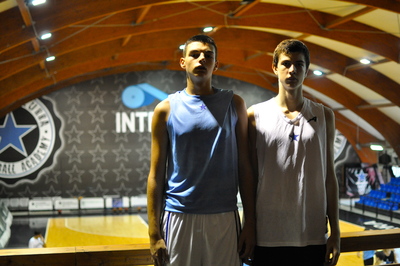 From Bosnia the talented Njegos Sikiras (PF, 6'8'', 1999) and from Serbia Lazar Nikolic (PG, 6'7'', 1999) will arrive to reinforce U15 and U17 rosters, they are among the best european prospects of their age and will be ready to become aces of the Stellazzurra Basketball Academy:
1) First name and family name?
Lazar: Lazar Nikolic
Njegos: Njegos Sikiras
2) Where do you come from?
Lazar: Serbia, Belgrade
Njegos: Pale, Bosnia
3) How long have you been playing basketball and how did you start playing?
Lazar: I play basketball for 4 years now I saw my brother playing and I wanted to give it a try
Njegos: Year and a half, my sister told me to try it
4) How did you know about Stella Azzurra Basketball Academy?
Lazar: I was on tournament in Budapest i and i was playing for Stella
Njegos: I played on a tournament in a Budapest for Bosnia and my opponent was Stella
5) Why did you choose Stella Azzurra Basketball Academy?
Lazar: Because it has all things that you need in a life and coaches and players are the best
Njegos: Because its the best basketball Academy in Europe
6) What do you know about Italy?
Lazar: Nothing
Njegos: Nothing
7) What are you characteristics as player?
Lazar: I love to play for team
Njegos: I think I can be a elite player but I have to train a lot
8) What is your biggest dream?
Lazar: To play in NBA
Njegos: To be a famous player
9) What is your favourite dish?
Lazar: Pancakes
Njegos: Sarma
10) Favourite movie?
Lazar: "White man cant jump"
Njegos: "Parada"
11) Favourite book?
Lazar: I don't have a favourite book
Njegos: "Gvozdeni rov"
12) Favourite artist?
Lazar: Kanye West
Njegos: Lil Wayne
13) One word to describe you on the court
Lazar: Leader
Njegos: Big heart
14) One word to describe me off the court
Lazar: Friendly
Njegos: Good man