Stellazzurra Basketball Academy at Zrenjanin Basketball Cup 2015
The U16 team of Stellazzurra Basketball Academy will be involved in 9-11 april at the Zrenjanin Basketball. Many important teams will partecipate as Partizan Belgrade, Bercelona, ​​Real Madrid, Cibona Zagreb and many others.
"We are proud to be at a tournament like this - explains ds Giacomo Rossi - to challenge with clubs like Barcelona, ​​Real Madrid, Partizan and Cibona is something unique, and in Serbia, the homeland of basket, is absolutely magic.
For Our guys will be a great opportunity to contest with athletes of an high level even european or global.
We are very curious and, personally, also very excited by these games. I think that Real is the favorite, regardless of the presence of Doncic, the other big team is Barcelona. Our team, Cibona and Partizan will try to be the 'outsiders'. During these days we will see at least 15-20 players in the field with an Euroleague potential, someone even NBA. How can we not be excited?!! The Stellazzurra participate with a mixed group of players in 1999 and 2000. Compared to other countries, in Italy we do not have the Under 16 so it will be a group created specifically for this tournament. Certainly we will not have the physicality to excel but we've got talent. "
Stellazzurra has been included in the group along with Barcelona, ​​against which will make its debut on the opening day, the KK Sports World and the home team of Proleter Zrenjanin. The event will see a first phase in the dates of April 9 and 10, while on saturday 11 will be held the finals with the group winners of Group A that will challenge the first place in Group B to win the tournament.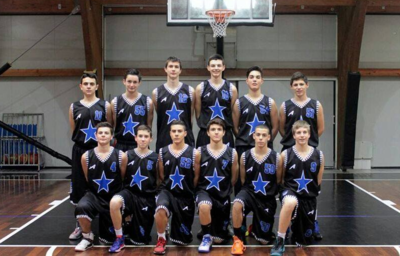 Schedule:

Thursday, 9 April 2015


13.30: Sveti Djordje Zitiste - Partizan Beograd
15.30: Proleter Zrenjanin - KK Sports World
17.30: Opening ceremony
18.45: FC Barcelona – Stellazzurra Basketball Academy
20.15: Real Madrid Basketball - Cibona Zagreb


Friday, 10 April 2015:


In Kristalna Dvorana:
10.00: FCBarcelona - Proleter Zrenjanin
11.45: Real Madrid Basketball - Sveti Djordje Zitiste
18.30: FCBarcelona - KK Sports World
20.15: Real Madrid Basketball - Partizan Beograd
In Hala Medison:
10.00: Partizan Beograd - Cibona Zagreb
11.45: KK Sports World – Stellazurra Basketball Academy
18.30: Cibona Zagreb - Sveti Djordje Zitiste
20.15: Stellazzurra Basketball Academy - Proleter Zrenjanin


Saturday 11, April 2015:


In Kristalna Dvorana:
11.30: 7-8 place
13.30: 5-6 place
15.30: 3-4 place
17.30: 3 Point Shooting Contest
18.15: Slam Dunk Contest
19.00: FINAL